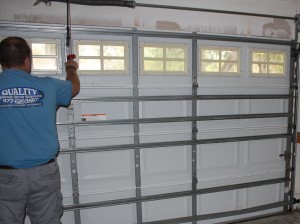 Garage Door Installation
Think you can go about installing a garage door on your own? We applaud your DIY skills and determination but this is perhaps not the best decision if you do not have any experience in this area. Installing a garage door is a complicated process that only professionals should undertake. Garage doors are large, heavy objects and unless you know what you are doing, you are likely to get injured. There are high-strength springs and motors involved as well. You want to make sure everything is installed perfectly; that's why you need to stick with professionals.
Here at Quality Garage Door Services Melbourne, we've done more garage door installations than we can remember. With over 30 years of experience in garage door installations, you know for sure that we'll handle your garage door installation with speed and a great price. Every year garage doors and commercial overhead doors change as technology changes. Quality garage door services makes sure that we keep up to date with all garage door installation techniques, products and technologies. All of our highly trained garage door technicians are qualified to install and service garage doors and openers of any kind. Quality doesn't just refer to our services and our products but our workmanship and extreme attention to detail. Garage door installation requires attention to hundreds of details for every job. We make sure every install gets done right with exceptional care.
It doesn't matter if you have multiple garage doors at a commercial business or one or two residential garage doors at your home. We can handle any garage door installation at competitive prices. We service Melbourne and all the surrounding areas and have probably helped your neighbors with their garage doors!
So please stick with the professionals if you need a garage door installed. If you have any questions or need to have a garage door installed, please call us today at 321-593-4280. We'll be able to get your garage door installation finished before you know it.
Quality Garage Door Services -
Melbourne #1 Garage Door Company