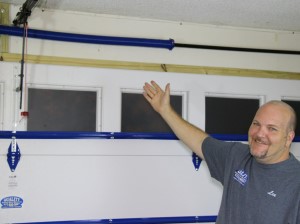 Garage Door Repair
When it comes to finding a garage door repair company in your area, the search can be a daunting task. Especially when you are not familiar with garage door services or home services companies in your area. What are the important things to look for? What are the qualifications of a legitimate, professional garage door repair Melbourne company? How will I know I made the right choice? We don't expect you to know all the answers but we will to our very best to help you understand what is important and to show you that we are the very best choice for Garage door repair Melbourne, FL and provide any assurances you need.
Quality Garage Door Services of Melbourne has been serving the entire Melbourne community for many years, providing top quality garage door repair and service to both residential homeowners who need repairs or new doors and opener and also commercial buildings in need of new garage doors or openers or industrial opener repair. We do it all and have become Melbourne's #1 choice for overhead garage door service.
Garage door repair Melbourne is the search term that reveals all the major players in Melbourne and we are glad that you have found us. We have serviced thousands of customers in need of garage door repairs just like you and feel extremely confident that you will be happy with the quality of your service and the cost of your repairs. Our goal is to provide you with this kind of amazing experience so that you will be a customer for life!
We would be honored if you would grant us the opportunity to earn your business. We are Melbourne's expert garage door repair company and always bring our "A-Game" every time. Please give us a call today and set up your appointment now. We know that you will be happy with our services and will keep us in your phone contacts for life!
Quality Garage Door Services -
Melbourne #1 Garage Door Company