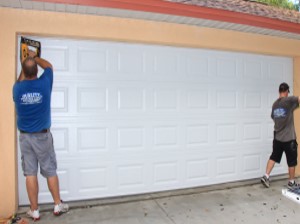 New Garage Door
If someone asked you today who you thought they should call in Melbourne for a new garage door, would you have a good company to refer them to? Well you do now! It can be a difficult thing to find a quality company who will sell and professionally install a new garage door. Most people don't have a clue where to look and have little experience. Well, getting in touch with the professionals at Quality Garage Door Services in Melbourne is the way to go when it comes to a new garage door for your home or business.
With over 30 years of experience in Florida, Quality Garage Door Services of Melbourne is your source for new garage doors or all kinds. If you're a homeowner and you need a new garage door, we can help you pick out the best garage door to match your home. We have many styles to choose from and lots of great colors. We will make sure that we stay within your budget and get you the perfect new garage doors that will beautify your home! You can also use our online door gallery to build the perfect garage door for your needs.
If you need new garage doors for a commercial application like a loading dock or industrial building, we can answer all of your questions when it comes to size, cost, durability, and more. We know which materials will be best in terms of cost and durability for your business and the amount of use the new garage door will get. We have serviced and installed hundreds of new garage doors for commercial purposes and know that we will get you the perfect new garage doors that will last for years at a low price! We know you are running a business just like we are and need to save money while getting the best possible service. Call us and we will be glad to help!
Feel free to call us today at 321-593-4280 for any questions you might have about a new garage door. We're here to help make buying a new garage door as stress-free as possible!
Quality Garage Door Services -
Melbourne #1 Garage Door Company